If a 10-stop ND filter gives you those beautiful, ethereally smooth waters and clouds, a 16-stop filter must be absolutely mind-blowing, right? I tested the two, side by side, and the results were not what I expected. Read on to learn why.
Long exposure filters let you cover your lens with a very dark filter (usually glass) so that you can keep your shutter open for extended periods of time, ranging from thirty seconds up to ten minutes and beyond if you desire (and the light allows you). When you see those ethereal shots of silky waterfalls or water that is completely flat and devoid of even the tiniest hint of a ripple in its details, you know they've been created with long exposure filters. If you didn't use a filter like these and tried to keep your shutter open for more than a minute, your entire exposure would simply be a completely washed out white.
The Lee Filters Big Stopper has been around for many years and is very well known in the photography world. It is a solid neutral density filter providing a 10-stop reduction in exposure. This creates a darkening of the entire image, allowing you to photograph with a wider aperture or slower shutter speed than normally required. By slowing your exposure time or increasing your aperture, you are able to control depth of field and convey movement more easily. It requires a few different parts to set up, however, such as the filter itself, an adapter ring to attach to the end of your lens, and a filter holder. I have used it for many years and have never had any trouble with it, despite its rather cumbersome preparation and setup time. You can see in the image below what it looks like when it's attached to the end of your lens.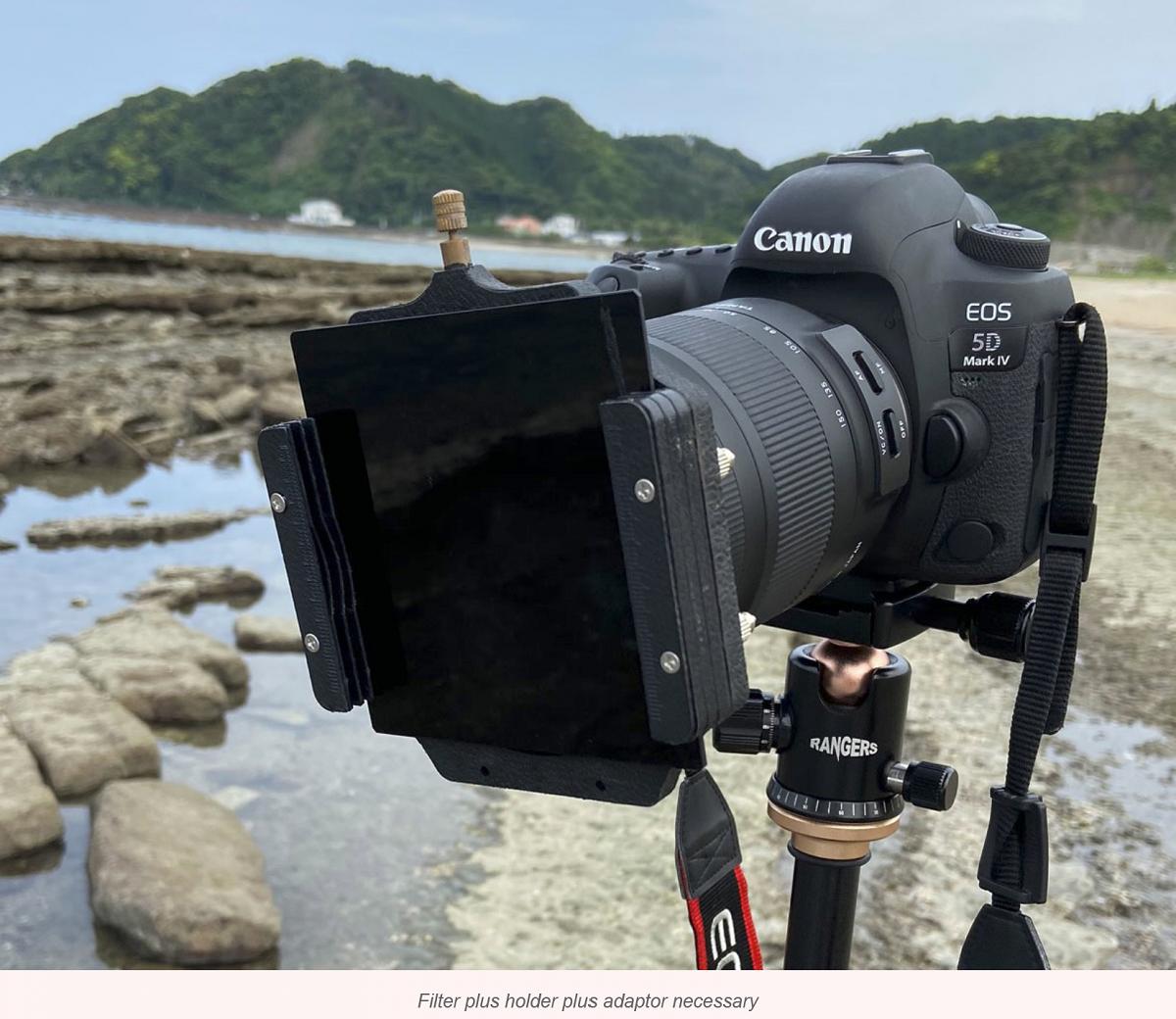 The Formatt Hitech Firecrest filter (called the Firecrest from here on) differs in two main areas. Firstly, it's a 16-stop ND filter, meaning you can keep your shutter open much longer than when you're using the Lee Filters Big Stopper. An extra six stops, to be precise. The second major difference is that it's a screw on filter, meaning that it attaches very easily to the end of  your lens with a couple of simple twists. Just like opening or closing a plastic bottle of water, if you will. This is hugely convenient and  also economically efficient because you don't need to lay more money out for adaptors or holders. The image below shows its appearance on the end of my lens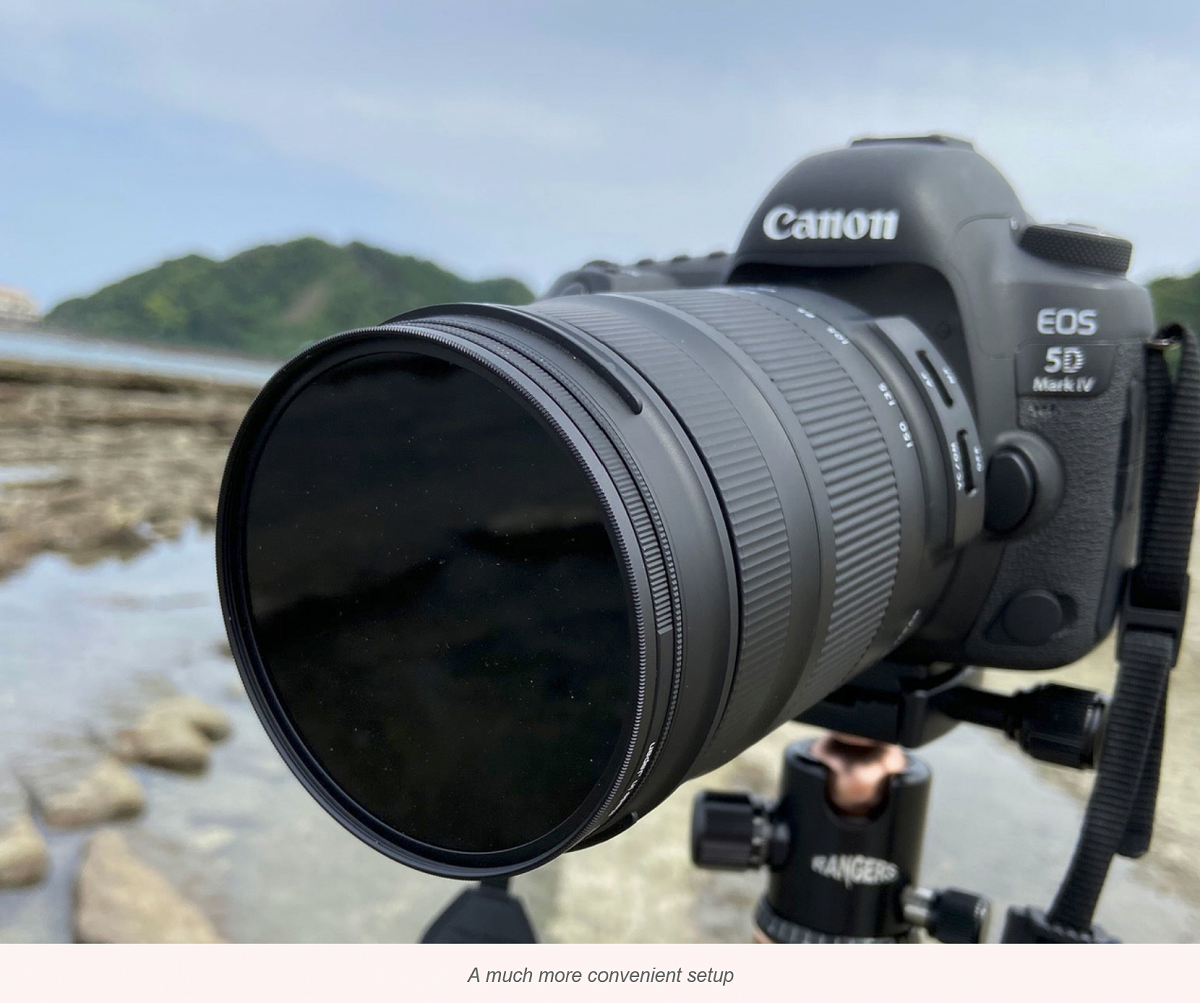 This is a huge attraction. Indeed, the filters themselves are similarly priced, at around $130, but when you add the adaptor ring and the holder necessary for the Lee Filters Big Stopper, its price ends up being much higher. That was one of the most appealing points to me: a filter that is much cheaper overall, has six extra stops of exposure reduction, and can be screwed onto the end of your lens in seconds. But how do they stack up when you're actually out in the field using them? Let's have a look.


The Location

Obviously, for a long exposure image you need moving elements. As I live near the coast here in Japan, I drove to a nearby beach that has some interesting, volcanic rocks. The waves there tend not to be too big so I was confident that I could position my tripod pretty much wherever I wanted without fear that it would get bowled over by some giant, rushing waves. It was a warm day and there was a little movement in the clouds, but not as much as I would have liked, to be honest.


The Testing Procedure

For the comparison, I tried to keep everything as similar as possible. I kept the same composition, the same tripod position, the same lens, the same focal length, and the same shooting time (give or take three minutes to take off one filter and attach the other). The lens I chose to use was my Tamron 35-150mm. It was the middle of the day and I was only doing some testing, so I wanted a versatile lens that would allow me to zoom. Moreover, it has a 77mm filter thread, so it matched my Firecrest ND Filter. For both filters, I set the focal length to 35mm.
Even though it was a warm, mild day without much swell, the tide was coming in so I didn't have unlimited time in the position I chose to shoot from. I decided to use the Lee Filters Big Stopper first because I am very familiar with the setup and also I know exactly how long to keep the shutter open in most scenarios. In Bulb mode, I set the aperture to f/9, the ISO to 100, and the shutter to stay open for one minute. Also, with the Big Stopper, when it's attached you can still see your composition through the back of the LCD screen on your camera, so I wanted to make sure everything was set as I wished for the first test.
Also of note, in the final images presented below, I did zero editing in post-production, other than a little straightening of horizons.
In the middle of the day, I seldom need more than a minute to get what I'm looking for in my image. With those settings, this is the shot that I got. As you can see, it's nicely exposed straight out of camera, and if anything, is overexposed. The focus is a touch off, which I put down to a couple light gusts of wind that came up as I was shooting. Normally, I'd attach my camera bag to the hook on the tripod for added support. All in all, I got exactly what I thought I would.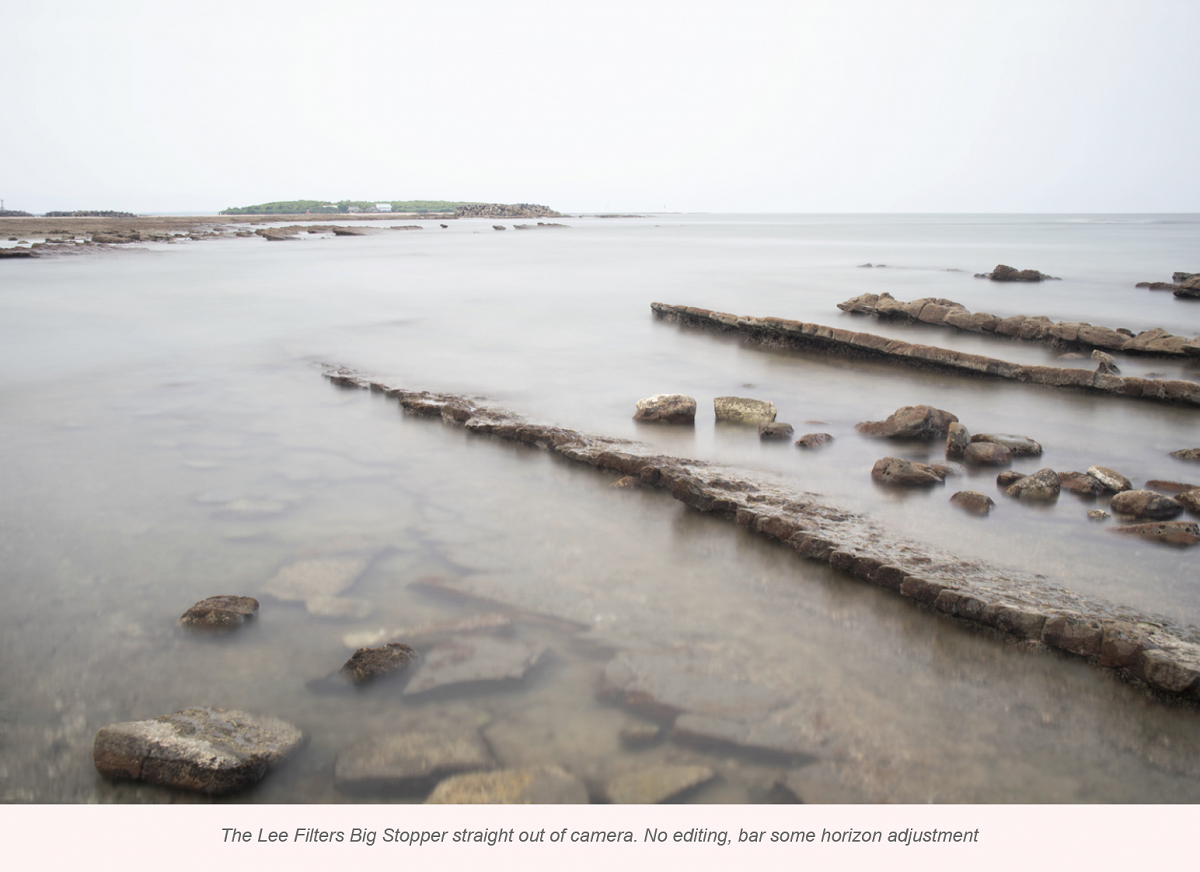 I then attached the Firecrest filter. As it's a 16-stop ND filter, I set the shutter to stay open for five minutes on the first run. You're probably thinking "huh? Why five minutes? 6 extra stop means double exposure time for each stop so it should have been double 1 = 2; double 2 = 4; double 4 = 8; double 8 = 16; double 16 = 32; double 32 = 64." Right? Yes, very easily I could have surmised that I'd need 64 minutes to get the same exposure. But Firecrest's very own website says you only need 5-8 minute exposures with their 16-stop filter. Don't ask me, I'm just the messenger. Have a look for yourself from the pic on their own website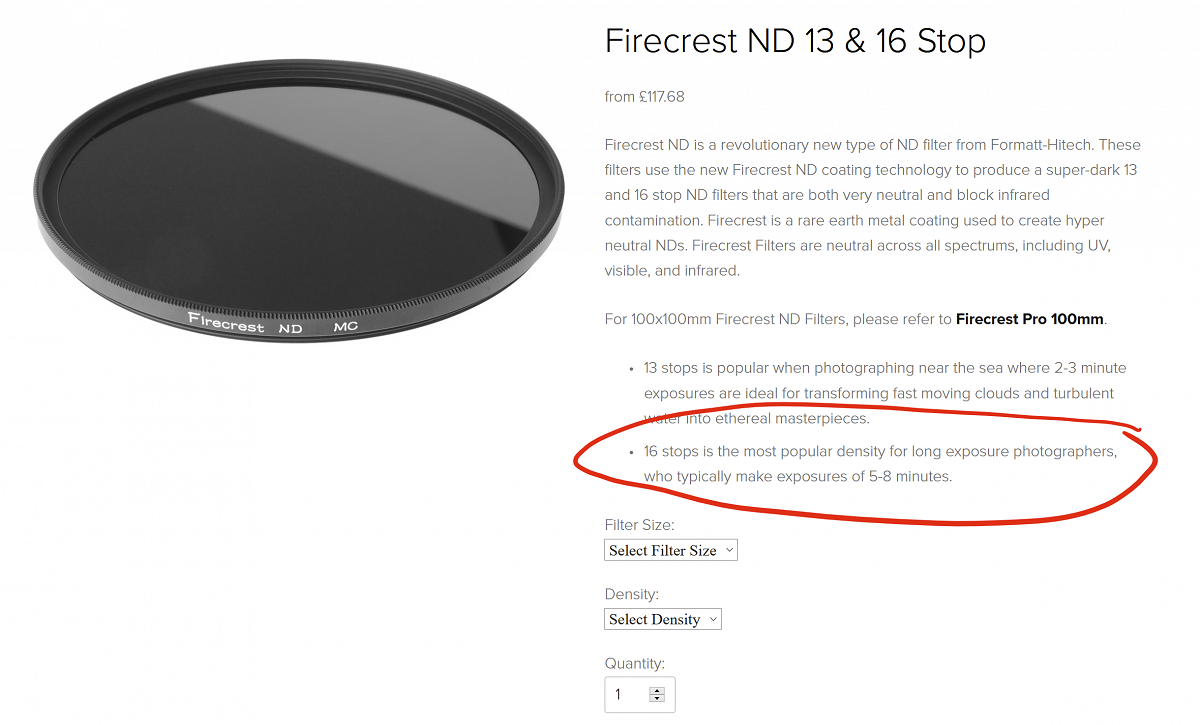 I have no idea what conditions their users are shooting under to get 6-8 minute exposures coz I was shooting in the middle of the day. Perhaps they sent guys to the sun? Anyway, this is what I got at 5 minutes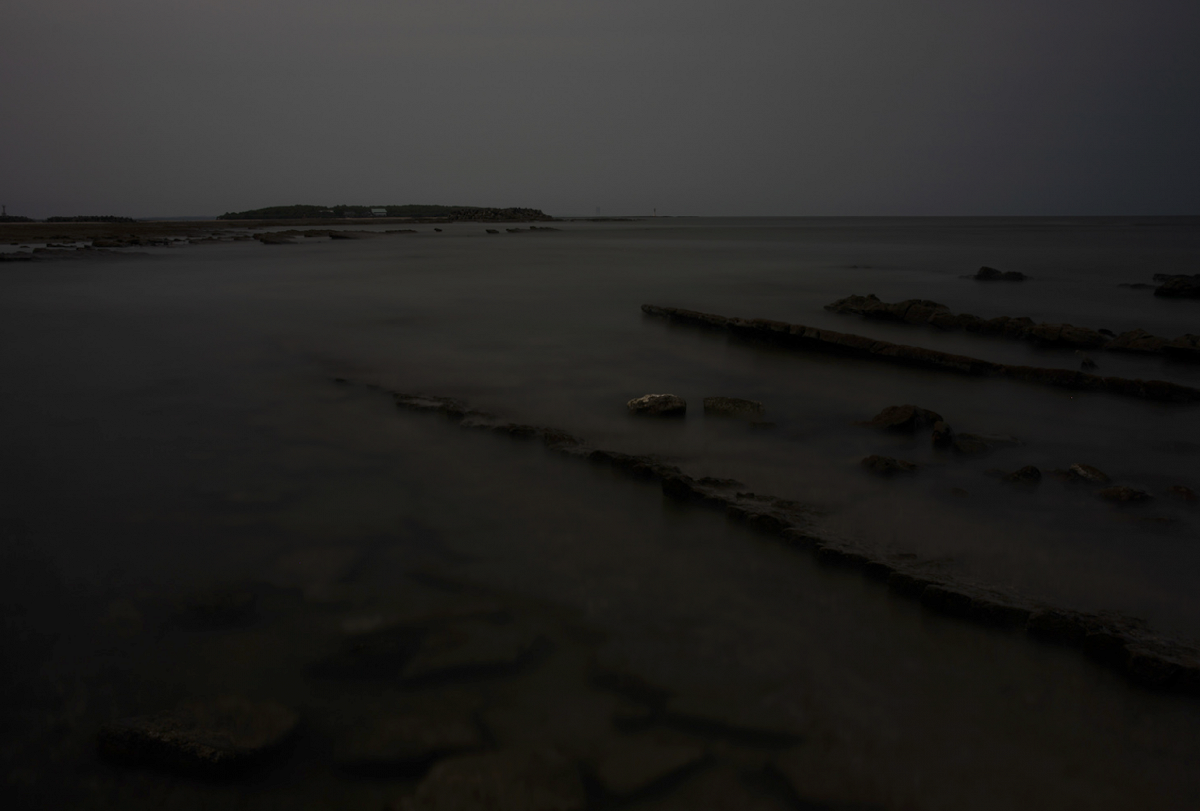 It was barely visible on the back of my camera so I had absolutely no idea if it was in focus, or if there were any artifacts or other problems. I grumbled and set the next exposure to eight minutes, hoping against logic and experience that I'd get something usable. Here's what I got.


This one was a little more visible, but still way, way darker than the one minute exposure I took with the Lee Filters Big Stopper. You can also see that some of the rocks in the foreground are starting to go underwater. In fact, as I was there for about ten minutes with the Firecrest filter, there was a noticeable difference in the depth of the water as the tide came in. Lord knows I'd have been 10 foot under had I exposed for 64 minutes! Or thrown in jail......



Very briefly, I was quite underwhelmed with the Firecrest filter. Yes, it's convenient, and cheaper, and much easier to set up, use, and store in your camera bag than the Lee Filters Big Stopper. But it doesn't do what it (incorrectly) states on its website. I can't conceive ever being able to get a long exposure image done in 5-8 minutes, as per their website blurb. False advertising? Dunno....It might be a wonderful filter if exposed for the correct time, at say 64 minutes in the middle of the day, but seriously, who on earth has time for that? Especially shooting seascapes when their are such variants in tides. 
What are your thoughts? Please leave any similar (or different) experiences you may have had in the comments below. And for the record, I
have no affiliation at all with either company and paid full price for both filters.